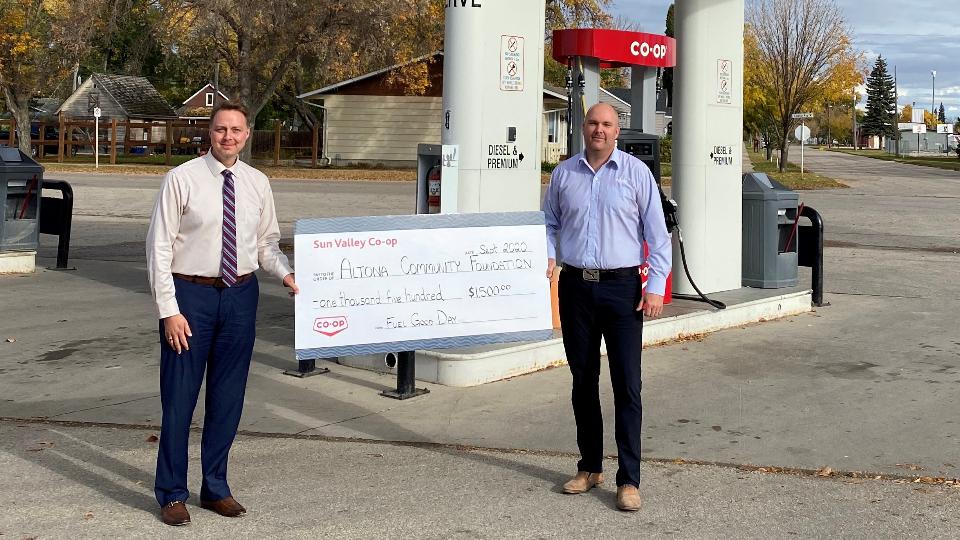 Fuel Good Day 2020
September 17, 2020
FUEL GOOD DAY held September 15th was a great success! For every litre of fuel sold, and $1 from every coffee and slushie sold that day, Co-op has donated FIVE CENTS to local Community Foundations. This year, Sun Valley Co-op locations in Morris and Altona raised $3000.00 for our local area community foundations. It's the Co-op way: fueling communities across Western Canada for about 100 years.
Altona Community Foundation member, Chris Sumner had these words to share...
Partnering with Sun Valley Co-op for Fuel Good Day couldn't have come at a better time for the Altona Community Foundation. We lost two of major fundraisers this year due to COVID-19 related cancellations, so having the opportunity to generate new community fundraising was very welcomed. Fuel Good Day also allowed ACF to further enhance its profile by speaking directly with those who support us while our board members spent time at the Altona Gas-bar. Thank you, Sun Valley Co-op, for this partnership!

Thank you for Fueling Good!