Answers About Equity Cheques
Actions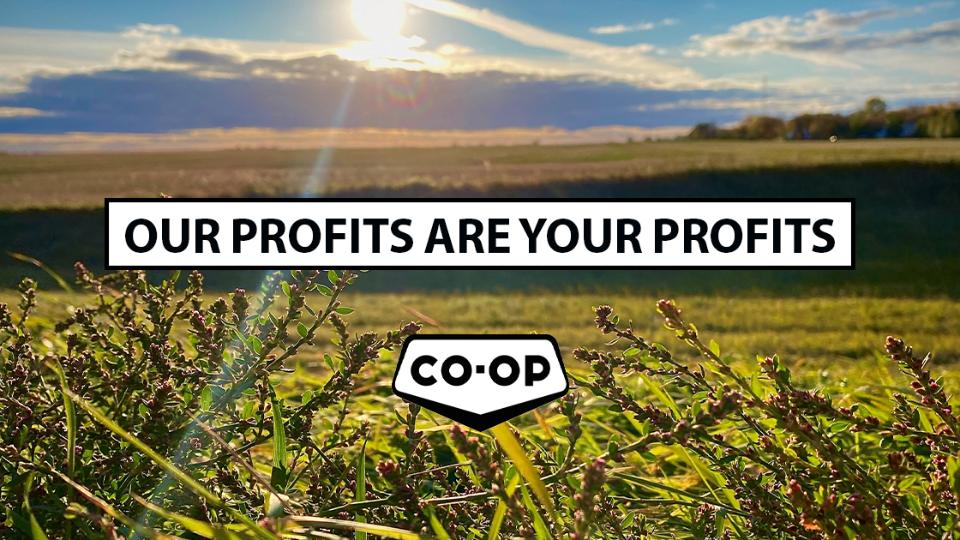 Answers About Equity Cheques
October 1, 2020
This year, Sun Valley Co-op board of directors approved an allocation to members of 5.5% on fuel an oil, 2.5% on grocery, and 2.5% on home centre purchases. Over 5,200 cheques totaling over $650,000.00 were sent out to Co-op members at the beginning of October.
What is Equity?
Once each year, a portion of your Co-op's profits are returned back to you based on a proportion of your total purchases. The more you buy, the more equity you earn and more cash you get back! The Sun Valley Co-op Board of Directors decides what portion of equity to pay out in cash. The remaining amount of equity grows in your member account, increasing your Co-op ownership over time.
How do I become a member?
By filling out an application and purchasing a $10.00 share.
Visit our website www.sunvalleycoop.crs and go to the article "Become a member". You can make the $10.00 payment with a credit card.
You may also see any of our cashiers to help you with this process.
What are the 2020 allocations?
This year, the Sun Valley Co-op Board of Directors, approved an allocation to the membership of 5.5% on Petroleum and Oil, 2.5% on Home Centre purchases, and 2.5% on Groceries.
What happens to the rest of my equity?
The remainder of the equity stays in your share account with Sun Valley Co-op. It helps finance the business, and maintain and upgrade assets to ensure ongoing success at Sun Valley Co-op.
When can I get my equity paid out?
Each member's equity remains in their Co-op account until one of the following circumstances takes place. At that time their shares or equity in the association will be repaid when the funds are available.
-A member moves away and will no longer be making use of their Co-op membership
-A member reaches the age of 68, set by the bylaws of Sun Valley
-A member passes away
It is your responsibility to notify Sun Valley Co-op Administration, who will send you an application to apply for any of the above.
Why didn't I get a cheque?
A cheque will not be issued for less than $10.
Allocations are based on spending in the system in 2019. If you became a member in 2020, you will not receive a cheque this year.
If a charge account is past 60 days, the equity cheque will be applied to the balance. If the cheque is more than the balance due, it will show as a credit on the charge account.

Please ensure that your mailing address on your Sun Valley Co-op account is current.
Why is there GST on my statement?
Canada Revenue Agency allows the GST to be returned to you based on your allocation. Sun Valley Co-op returns that GST to you by adding it to your equity account, ultimately getting paid back to you through cash repayments.
Why is Tax Deducted Off of My Statement?
Sun Valley Co-op is required to submit a minimal amount of tax to Revenue Canada. Fifteen percent of any allocation over $100 is submitted on your behalf. When filing your income tax, you are entitled to include the deduction (box 22 on the T4A) as a pre-payment of income tax. If your purchases were used for personal use only, the allocation (box 30 on the T4A) does not need to be included as part of your taxable income. If you are claiming some or all of the purchases as business/farm expenses, then you must include an applicable portion of that allocation as taxable income on your income tax form. T4A's are issued at year end.
When is a cheque no longer valid?
Under Canadian Payments Association, a cheque is no longer valid after six months. If you fail to cash your cheque, the amount is returned into your equity account.
If you have more questions, please feel free to contact the Sun Valley Co-op Admin office. Due to covid restrictions, please refrain from coming to the office in person if possible.

Contact us by e-mail ar@sunvalleycoop.crs or phone (204)324-6956.
Thank you!